RISC-V, the "youngest" ISA (Instruction Set Architecture), which was born in year 2010, has attracted many giant supporters, such as Google, Qualcomm, Western Digital, Alibaba, Huawei, and UNISOC. In recent years, the chip with open source RISC-V ISA has achieved good results in the IoT market, which has brought considerable pressure to ARM which has an advantage in this market.
Semico Research predicts that there will be 62.4 billion CPU of RISC-V cores in the world in 2025. The RISC-V ISA can be used not only in the CPU, but also in the DSP (Digital Signal Processor). The world's first DSP based on the RISC-V ISA will be mass-produced by the end of this month. The chip comes from the Chinese start-up company Beijing Haawking.
For the RISC-V camp, this is a notable development in ecological construction. For DSP chips, this is a bold attempt. For China's four major domestic chips (CPU, GPU, FPGA, DSP), this is a breakthrough opportunity.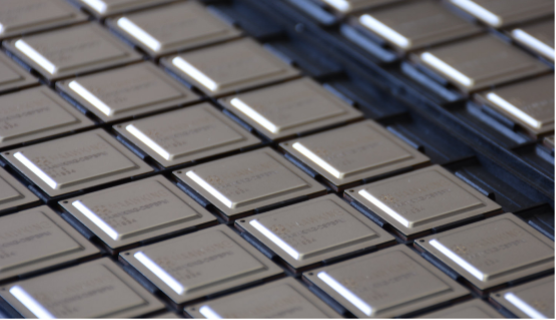 The world's first RISC-V DSP for the industrial automation market
According to known public information, Haawking is the world's first company to design DSP with RISC-V ISA.
Li Renwei, the founder and chairman of Haawking, told Leifeng.com: "We are one of the few DSP teams in China with more than ten years experience in DSP. Our team has more than ten years of DSP and general processor research and development experience. We started research on RISC-V processor cores in 2016. The company was established in January 2019, and the first RISC-V DSP chip was successfully taped out in July."
"At the end of March, we will mass produce two series of DSP, both for the industrial automation market." Li Renwei revealed.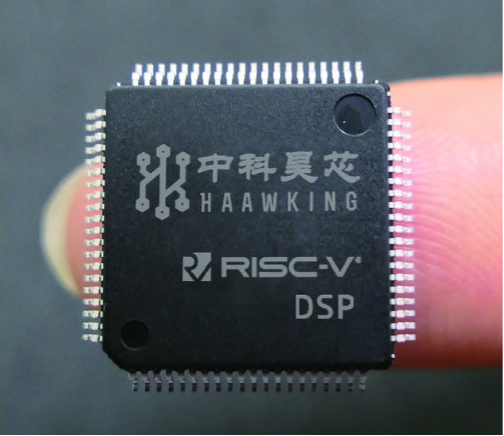 The reason why Haawking was the first company to choose RISC-V ISA to design DSP was because its team has experience in successfully developing multiple processors and because RISC-V is a good choice to solve the two major challenges of domestic DSP. DSP is a type of embedded general-purpose programmable microprocessor. Its biggest advantage is that it can process digital signals at high speed in real time, and has lower power consumption than CPU, GPU, and FPGA. It is widely used in communications, computing, consumer electronics, automatic control, and other domains.
"DSP mainly has two forms, one is a single chip, and the other is integrated into SoC through IP or module." Li Renwei said: "Domestic single-chip DSP has some market share, and the localization rate in the DSP IP domain is almost zero."
Leifeng.com learned that the localization rate of domestic DSP in some special domains has reached more than 80%, but these special domains account for less than 5% of the overall DSP market in China. And the self-sufficiency rate of domestic DSP in other domains is less than 10%.
There are two constraints in increasing the self-sufficiency rate of DSP. The first constraint is intellectual property rights. Any processor needs an ISA. The essence of the ISA is the issue of intellectual property. There are x86, ARM, MIPS and other ISA for CPU, among which ARM dominates the mobile processor market by its licensing model.
"DSP giants all have different ISAs, and they are not authorized to other companies. It is not difficult for domestic DSP manufacturers to define an ISA by themselves, but it is difficult to build a complete set of tool chains and ecology by themselves. " Li Renwei pointed out."DSP giants all have different ISAs, and they are not authorized to other companies. It is not difficult for domestic DSP manufacturers to define an ISA by themselves, but it is difficult to build a complete set of tool chains and ecology by themselves. " Li Renwei pointed out.
The second constraint is the application ecology. How to attract developers and customers to use domestic DSP is a bigger challenge.
"RISC-V is an open source ISA, without intellectual property issues. At the same time, both domestic and foreign companies or universities have joined RISC-V International. The ecological development is very fast." Li Renwei said: "At the time, I felt that RISC-V has the opportunity to perfectly solve the two major challenges faced by domestic DSP companies. So we made a bold choice in 2016 and started independent research and development of RISC-V based DSP."
As for why the RISC-V based DSP for the industrial control market was first introduced, there are three main reasons.
Solve the challenge of weak performance of RISC-V and give full play to its flexibility advantages
"The reason for choosing the markets of industrial automation and machine vision is mainly because our team has more technical and marketing accumulation in these two domains." Li Renwei further said, "Of course, We will also go step by step, first launching a series of products for industrial automation, and then launching products for machine vision."
There is another reason. The consumer electronics and automatic control market account for 11% of the entire DSP market. The industrial control market is also an important market for DSP giants, which is a good breakthrough.
The performance of DSP for these two domains will be very different. DSP used in industrial automation is a bridge between digital signal and control. It emphasizes real-time control and transformation performance in applications. DSP used in machine vision needs stronger computing power.
High computing power is a big challenge for chips of RISC-V ISA. Li Renwei said: "There is a big difference in architecture between the DSP based on the RISC-V ISA and the DSP of giant companies. At the same main frequency, the performance of the RISC-V processor is far from the DSP performance of the giant company."
The essential reason is that the traditional high-performance DSP architecture is designed for DSP algorithms. One instruction can implement many complex functions while using RISC-V instructions to do the same thing requires multiple instructions to be called. "This is a very big challenge for us. With the rich experience of our team, on the basis of the most basic RISC-V instruction set, according to the characteristics of the algorithm, many DSP instructions have been extracted and defined. Meanwhile, a lot of innovations were made in the architecture, and finally, a DSP with excellent performance and power consumption was designed." Li Renwei said.
The performance challenges brought by RISC-V are solved, and the advantages of the RISC-V instruction set are also highlighted. "Because we only use the most basic RISC-V instruction set, and our own extended instruction set, there is no forward compatibility problem. Coupled with the power consumption advantage of RISC-V itself, our DSP has a power consumption advantage." Li Renwei said at the same time: "Just as RISC-V can give full play to its customized advantages in every domain, it is the same in the DSP domain. I also think the future will be the era of Domain-Specific Architecture."
The higher cost performance of the chip does not mean that it will be welcomed by developers and users.
The application ecology is a greater challenge. "I often say that we are actually standing on the shoulders of giants. Without the contribution of the RISC-V community, it would be too difficult for us to make a complete tool chain. With an open source solution, we can build on the basis of open source. Make modifications and customizations to greatly reduce the difficulty."
Li Renwei said: "In order to make it easier for users to switch, we have also done a lot of work, including development environment, graphical interface and communication interface, etc., through the compiler and enough libraries, users can switch to our DSP easily without changing their habits, and the cost is very low."
First we will switch imported DSP to domestic DSP in a familiar way for users, and then gradually improve performance. We will cut into the low-end market, give full play to our advantages step by step, and realize the high-end replacement of chips. The domestic DSP chip company represented by Haawking has found a good alternative route for domestic production, but the breakthrough challenge is not small, and great patience is also required.
Breaking through the rule of the three giants under the wave of domestic substitution
"No matter which domain, high-end or low-end, the most difficult thing to apply domestic chip is the application ecology." Li Renwei believes, "Previously, domestic users had no choice even if they wanted to use domestic chips."
Today, the country vigorously develops the domestic chip industry and has set clear goals. The "Several Policies to Promote the High-quality Development of the Integrated Circuit Industry and Software Industry in the New Era" issued by the State Council in August 2020 proposed that China's chip self-sufficiency rate should reach 70% by 2025.
With the support of funds and policies, domestic chips including CPU, GPU, FPGA, and DSP have ushered in huge development opportunities. Haawking was also established in this context. "For areas where domestic substitution is more urgent, it will be easier to increase the self-sufficiency rate of domestic chips, including DSP, such as power and rail transit." Li Renwei said.
"In addition to specific domain, including industrial automation and other markets, domestic users have also become more open to domestic chips. From last year to this year, we have clearly felt that customers are more willing to accept new domestic chips and become more tolerant."
Regarding the stability of domestic chips that many users are worried about, Li Renwei said that Haawking's chips have strict test procedures and there is no problem with stability.
There is another advantage of domestic chips, which can better meet the needs of the domestic market. For example, the security that has attracted more and more attention. Many domestic chips have enhanced the security of the chips through hardware. Haawking can also provide customized functions to achieve stronger security.
There is also an opportunity that cannot be ignored. The three major DSP chip giants, including TI, ADI, and NXP, are generally out of stock. DSP chips do not require the industry's most advanced 7nm and 5nm processes. Domestic chip foundries can be chosen, and most of the chip packaging and testing are also carried out in China.
"If you use mature domestic nodes, the production of chips will be less affected. Out of stock is indeed an opportunity for domestically produced domestic chips including DSP ." Li Renwei said.
But as Li Renwei said to Leifeng.com, "From the very beginning, when we define products, our goal is clear. Products of the same grade are more cost-effective than foreign giants' DSP. It is quite difficult to achieve this goal."
Fortunately, Haawking had financing last year and this year, and was recognized by capital. The current feedback from customers is also very positive.
Keep patient
Take the opportunity.
The future of domestic chips is worth looking forward to.