Industries like manufacturing and automotive are facing the challenges of getting access to device-wide data, analyzing useful data and combining and processing data in the vehicle or on the edge device and in the cloud. Access to operational data from the edge device will revolutionize device maintenance.
Our joint solution with aicas allows you to access and analyze millions of data in vehicles and edge devices.
aicas and Microchip Develop Joint Cloud-to-Edge Solution to Access Deep Data
This joint solution provides open, standards-based, edge-to-cloud solutions focusing on the Industrial Internet of Things (IIoT) edge and automotive sectors. Combining our RISC-V®-based, high-performance PolarFire SoC FPGA with aicas EdgeSuite and Jamaica VM provides significant value to the automotive and IIoT markets. 
EdgeSuite offers management and full access to logic and data. It manages the full life cycle of large fleets of devices or different IoT edge systems with one single, comprehensive, open system. This unifies your fleet of devices to one single environment and reduces risks due to the variety of supported heterogeneous environments, platforms, standards, protocols and operating systems. It offers flexibility by supporting different runtimes and provides modular components that can be easily reconfigured and delivered on demand.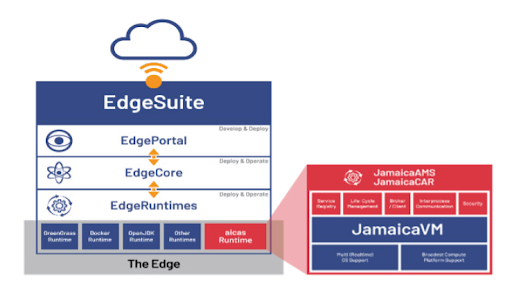 EdgeSuite consists of three major components:
EdgePortal allows you to manage everything that happens inside and outside of EdgeSuite from a modern and easy-to-use graphical user interface.

EdgeCore is the glue that keeps everything together by coordinating messaging, data routing, configuration, provisioning and much more.

EdgeRuntimes serves as an environment to accommodate the service logics running on the edge device. Abstract and unify your IoT applications from the underlying platforms to place and run your code on almost any hardware architectures and operating systems with low latency.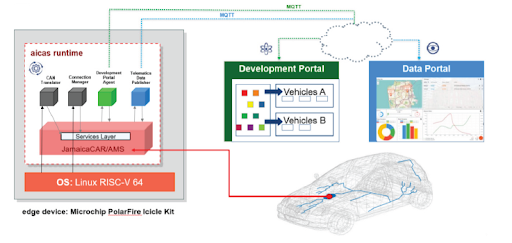 JamaicaVM–The Proven Development Kit for Embedded Software
JamaicaVM is a Java-based software development kit and runtime for embedded systems that empowers you to easily integrate multiple embedded platforms. Besides supporting JavaSE functionalities, JamaicaVM offers real-time capabilities. Based on the real-time specification for Java (RTSJ), it ensures your embedded applications perform the way you designed and developed them.
On top of JamaicaVM, software modules are built to provide services such as life cycle management, service registry, security and more. These software modules are the application framework of JamaicaAMS. Using JamaicaAMS, you can develop and deploy the domain-specific application to the edge device through the development portal and you can collect the telematics data via the data portal. Most importantly, you can deploy the application across different architectures, reducing development costs significantly.
Visit www.aicas.com for detailed information about how to get deep data access or connect with the author on LinkedIn (https://www.linkedin.com/in/norbertsteinhauser/). You can also mail on info@aicas.com