By Xiaoxia Cui
Wearable devices, such as smartwatches and pulse oximeters, are gaining popularity with the continuous expansion of IoT applications in recent years. However, the diverse systems and network protocols required lead to high software migration costs and inconsistent security levels This poses challenges to the healthy development of the wearables industry.
At the inaugural XuanTie RISC-V Ecosystem Conference, a secure payment solution featuring cloud-device integration was unveiled to tackle these issues. Collaboratively launched by T-Head, Alipay, and the China Academy of Information and Communications Technology (CAICT), this innovative offering establishes a new standard for wearable payment devices. Dubbed as "wearable payment security solution", it has effectively bridging the gap in the industry. It marks a significant milestone for wearable devices and lays a strong foundation for future development. Moreover, Alipay has introduced its "Payment Chip" program to develop secure payment capabilities in cooperation with manufacturers. T-Head and Alipay will join hands to roll out the first batch of Made-In-China chips with secure payment.
In terms of chip design, payment chips powered by T-Head RISC-V CPUs offer more than cost savings. They are highly customizable to various application scenarios, making them an ideal choice for IoT devices. More importantly, these payment chips are designed to offer top-notch, hardware-based security that extends deep into the processor cores of wearable payment devices.

The solution provides a complete Turnkey method to secure wearable payments, supporting both SE and TEE security levels. Based on the secure software architecture of T-Head, these two security schemes can be quickly imported by leveraging a unified migration interface that is extensible and user-friendly. This greatly minimizes the software migration, as well as development costs for solution providers.
TEE technologies are primarily employed in high-performance and -security scenarios. T-Head's Virtual Zone security technology offers a highly secure runtime environment for applications that is compatible with Global Platform TEE security technologies. This enables seamless and secure application migration from other platforms to payment chips. By combining T-Head's TEE with SE security technologies, we succeeded to fit in most of the secure IoT application scenarios while meeting the security standards of various industries and regions.
The solution employs stringent hardware and software security measures to prevent theft or cloning of users' payment assets which are stored in the protected and isolated memory of security chips. Additionally, the key code used for generating payment tokens also runs in a secure execution environment, improving the security of wearable payments even more extensively.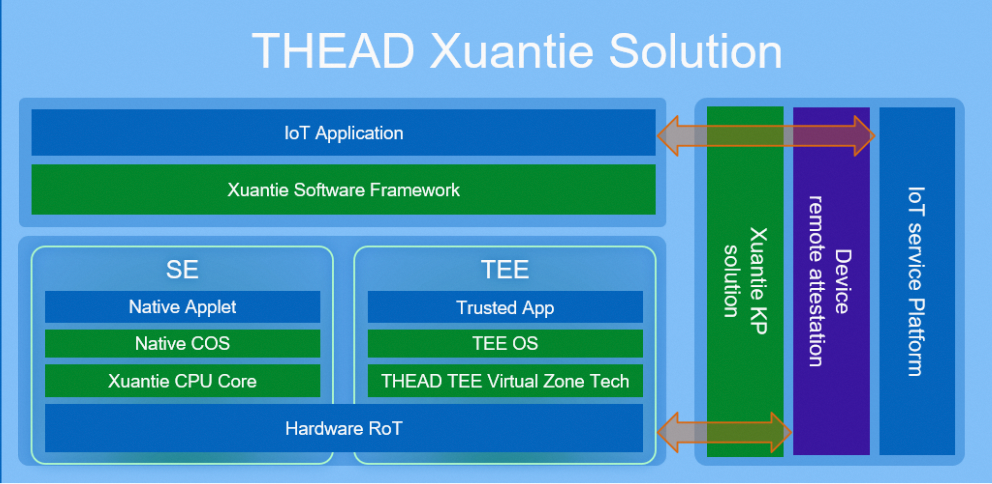 The wearable payment security solution offers significant benefits to low and medium-end wearable watch solution providers, providing them with cost-effective and highly secure payment capabilities. This has a significant impact on the payment industry, and has the potential to expand to other industries as well. T-Head's XuanTie security technologies made it possible for replicable and extensible security schemes to be implemented in different payment scenarios, creating a more comprehensive software ecosystem for using RISC-V chips in wearable devices.
Reference: