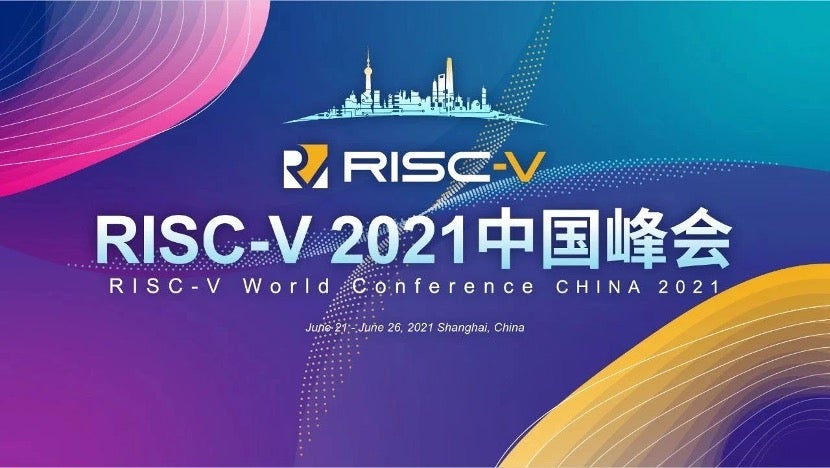 The RISC-V Blockchain SIG, jointly established in February 2021 by Wanxiang Blockchain, aitos.io, Leapfive, Starfive, and Sifive, focuses on building the Chinese Trusted Embedded Architecture (TEA) that is open to everybody in the world through the combination of RISC-V and blockchain.
The Blockchain + RISC-V Forum and Workshop held during the RISC-V World Conference China 2021 was the first public activity of RISC-V Blockchain SIG and showcased the efforts and progress the group has made since its establishment. Vincent Y. Wang, Executive President of Wanxiang Blockchain, Aglaia Kong, CTO of Leapfive, and Leo Lin, Founder and CEO of aitos.io attended the forum and shared the latest development and use cases of blockchain and IoT.
Vincent Y. Wang, Executive President of Wanxiang Blockchain
Vincent Y. Wang mentioned in his speech: "RISC-V and blockchain are two fundamental open-source technologies to build a trusted and open-source system. That's why we actively promote the integration and cooperation among different technologies and industries and make the best of RISC-V's value in achieving equality, openness, transparency, security, and protecting privacy."
By investing in the innovation and integration of blockchain and IoT, Wanxiang Blockchain aims to ensure the collected data is trusted and make it easier to upload the data collected by IoT devices to the blockchain. Wanxiang Blockchain and their partners established the RISC-V Blockchain SIG to make open-source chip architect more competitive and explore more use cases by setting standards for blockchain and IoT, encouraging technical innovation, and a favorable ecosystem.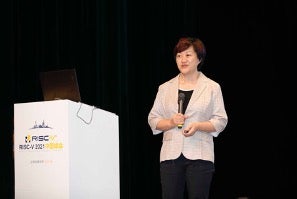 Aglaia Kong, CTO of Leapfive
Manufacturing, logistics, and energy will become the major application scenarios of IoT and have rigorous requirements on security. The challenges facing IoT are the huge number of terminal devices and data security threats. "Our priority is to make sure that chips are trusted and secure", said Aglaia Kong, CTO of Leapfive. She also mentioned that Leapfive helps to make sure that data is trusted from the sources by assigning each and every chip a tamper-proof blockchain ID.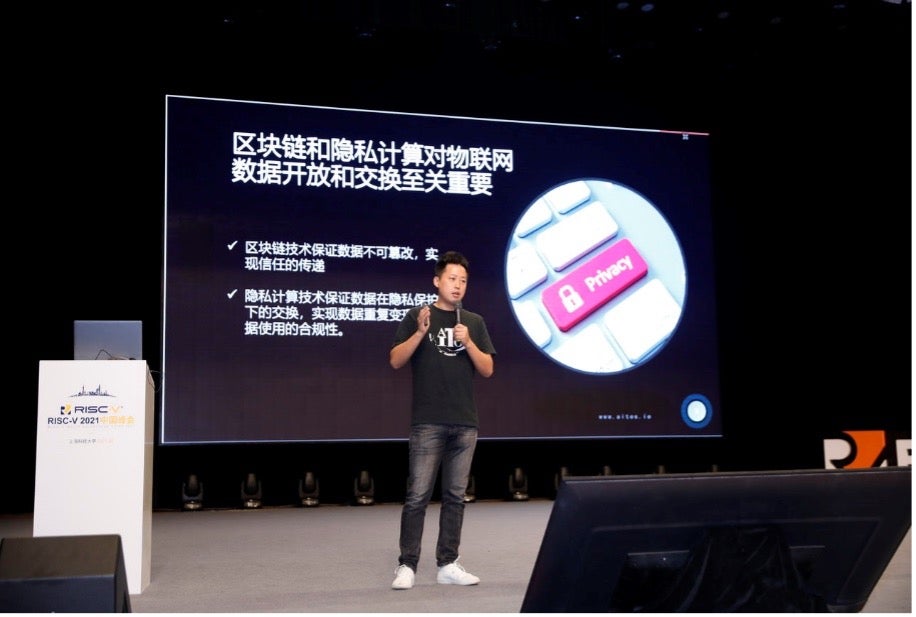 Leo Lin, Founder and CEO of aitos.io
"BoAT (Blockchain of AI Things) is just like a boat that helps traditional IoT companies to transport valuable data to blockchain", said Leo Lin, Founder and CEO of aitos.io. He also announced that BoAT-V, an open-source version for RISC-V, was ready to launch and aitos.io would work with partners in RISC-V community to explore the value of data, build an open-source business system, and establish a trusted data pedestal for IoT.
Meanwhile, in the Blockchain + RISC-V workshop, leaders and experts from blockchain, chip, module, and other related companies shared their technical innovation and use cases in RISC-V,  IoT, and blockchain.
Patty Tu, Senior Director of Blockchain + Technology Department at Wanxiang Blockchain introduced Wanxiang Blockchain's solutions in various industries. Wanxiang Blockchain has empowered new energy, agricultural, petrochemical, etc. through the Distributed Cognitive Industrial Internet based on blockchain and is sketching the blueprint of a digital city built upon blockchain and RISC-V.
Guo Wei, Vice Director of CTTL-Terminal shared security and classification standards of IoT and her positive attitude on the blockchain technologies and applications. Xiao Qing from China Mobile Internet of Things Co., Ltd., Li Ke, General Manager of Terminal Division of Qianxun Location Network Co., Ltd., Frank, Vice General Manager of Starfive, and Gary Xu, Co-founder and CTO of aitos.io talked about the challenges and opportunities of blockchain and RISC-V.
The panel moderated by Gary Xu, Guo Wei, Tang Bo (Information Security Chief Scientist of Changhong), and Liu Feng (Vice President of Walden International) discussed topics on how to support the development of IoT and blockchain and the security of open-source systems.
Moreover, in the panel focusing on blockchain and chips, Frank, Vice General Manager of Starfive, Li Zhanbo, Director of Industrial Electrical Product at Unisoc, Xiao Hongjian, Chairman and CEO of Xinxi Information Technology, and Shi Xianshuai, R&D Director of Kjlink exchanged their ideas on the importance of blockchain to the development of chip industry, the challenges to chip design, the changes open-source systems bring to the chip industry.
Building Chinese TEA requires not only a wide imagination but serious research and development. Wanxiang Blockchain has built a trusted data pedestal for the digital transformation of industrial based on PlatONE, a consortium blockchain developed by Wanxiang Blockchain and Matrix Elements.
In the future, Wanxiang Blockchain is committed to promoting the development of Chinese TEA with our partners and providing more innovative solutions to industrial internet, digital city, and other key industries.