After our previous announcement on the availability of Ubuntu running on RISC-V processors and hardware, we are proud to announce the Ubuntu release for additional RISC-V hardware – Allwinner's Nezha board.
RISC-V, a new paradigm for open source hardware
In the last decade, open source and open standards have reshaped our world. Such technologies have produced long-lasting results and the RISC-V consortium has extended open source to develop a standard open-source processor architecture. The release of RISC-V to the open community marked the first time the hardware community embraced open-source standards and collaboration at this level.
This free and open Instruction Set Architecture (ISA) can enable a new era of processor innovation through open standard collaboration with rapid industry-wide adoption. The RISC-V ISA delivers a new level of free, extensible software and hardware freedom on architecture. The architecture can be applied to a broad range of processors, from low-end microcontrollers to high-end server-grade processors.
Allwinner and Alibaba improve RISC-V features and performance
D1 is Allwinner's first SoC based on the RISC-V ISA designed for multimedia decoding platforms. Running on Linux, RTOS and other systems, D1 integrates Alibaba T-Head's 64-bit core and supports RVV and 1GHz frequency. At the same time, it supports up to 4K H.265/H.264 decoding, a built-in HiFi4 DSP, and an external connection of up to 2GB DDR3, which can be used in many fields such as smart cars, HMI, Smart home and  education.
Nezha is an AIoT development board based on Allwinner's D1 chip. It is the world's first mass-produced development board that supports the 64-bit RISC-V instruction set and a Linux system.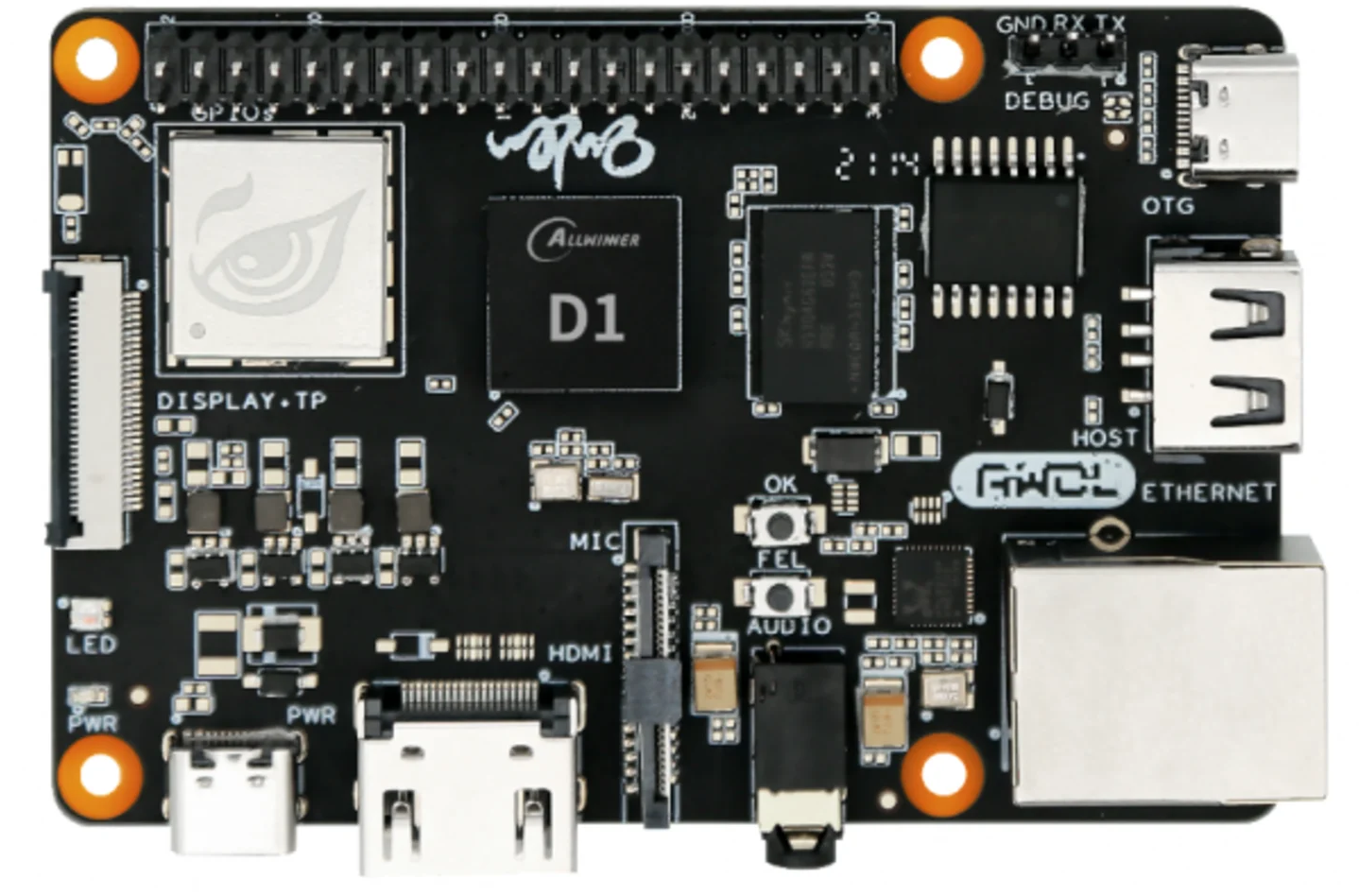 Open source initiatives are backed by Canonical
While RISC-V enables stable reference architectures and hardware, running stable software on new boards can still be challenging. The cornerstone of the necessary software is the underlying Operating System (OS), which provides reliability and stability. This demand makes development on Linux even more attractive, since Linux is the most popular OS for developers and hobbyists, across kernel, drivers, and distributions.
At Canonical, we believe that open source is the best way to accelerate innovation. It motivates us to enable a wide range of open source communities under the Ubuntu umbrella. However, open source software comes with its own set of challenges. Canonical aims to position Ubuntu as not just the reference OS for innovators and developers, but also as the vehicle to enable them to take their products to market faster by letting them focus on their core application without having to worry about the stability of the underlying frameworks.
RISC-V has a lot of potential and is becoming a competitive ISA in multiple markets. With this premise in mind, porting Ubuntu to RISC-V to become the reference OS for early adopters was the natural choice.
Allwinner, Alibaba and Canonical bring Ubuntu to the Nezha board
"It's great to see that Canonical has ported the Ubuntu operating system onto Allwinner's RISC-V architecture chip. This is exciting news and will be a new milestone for RISC-V architecture and the Ubuntu operating system," said Shaorui Huang, General Manager of Product R&D Center of Technology at Allwinner. "RISC-V has become more and more popular in recent years due to its architectural advantages, but there are still some shortcomings. For example, there is a lack of development platforms supporting Linux systems, and the software ecosystem is not perfect. Canonical's development team ported Ubuntu to the Nezha development board, which is expected to further expand RISC-V applications and provide more convenience for developers and enterprises. We are very happy to bring this high-power RISC-V computing platform to Ubuntu. In the future, Allwinner will continue to invest in the high-performance field of RISC-V architecture and continue to inject impetus into the development of the Ubuntu ecosystem."
The availability of Ubuntu running on the Nezha board comes as the result of the joint work between Canonical, Alibaba and Allwinner. Canonical's engineering team is in the process of porting Ubuntu to the Nezha board, backed by the Alibaba and Allwinner engineering team, as part of a long-term collaboration between the three companies.
Ubuntu, backed by Canonical, provides a commercial-grade Linux distribution free to use by innovators and developers. "We are thrilled that, through our collaboration with Alibaba and Allwinner we are bringing the great experience provided by Ubuntu to the Nezha development platform. Our open source operating system will provide a unique entry point to a wide range of applications, and enable the ecosystem to create innovative solutions on our partner's RISC-V platforms.", said Cindy Goldberg, Vice President of Silicon Alliance at Canonical.
Ubuntu on Nezha boards is available now
Ubuntu image is now available for Allwinner's Nezha board, and more work is expected to include new features and a port to the latest Ubuntu releases.
Allwinner's Nezha board is supported by Ubuntu 22.04.1. Download the latest Ubuntu images for Allwinner's Nezha board here.
For guidance and discussion on the images and the best ways to install them, please use the Ubuntu discourse under the documentation itself so everyone can benefit from your experience.
About Canonical
Canonical is the publisher of  Ubuntu, the leading OS for container, cloud, and hyperscale computing. Ubuntu is the OS for most public cloud workloads as well as the emerging categories of smart gateways, self-driving cars and advanced robots. Canonical provides enterprise security, support, and services to commercial users of Ubuntu. Established in 2004, Canonical is a privately held company.
About Allwinner
Allwinner Technology, founded in 2007, is an outstanding designer dedicated to intelligent application SoC, high performance analog components and wireless connectivity IC. It is headquartered in Zhuhai China, with other R&D centers and offices in Shenzhen, HongKong, Xi'an, Beijing and Shanghai.
About Alibaba T-head
Founded on September 19, 2018, T-Head Semiconductor Co., Ltd. is a wholly-owned semiconductor chip business entity of Alibaba Group.  T-Head possesses the terminal-cloud integrated full stack product series such as AI chip, CPU Processor IP, etc., covering end-to-end chip design process.