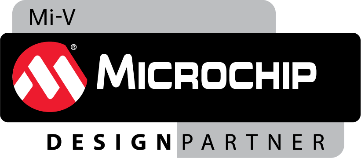 The Mi-V RISC-V ecosystem is a continuously expanding, comprehensive suite of tools and design resources developed by Microchip and numerous third parties to fully support RISC-V designs. The Mi-V ecosystem aims to increase adoption of the RISC-V Instruction Set Architecture (ISA) and Microchip's PolarFire® SoC FPGA and RISC-V soft CPU portfolio.
System on Modules (SoMs) Available as Ready-to-Use PolarFire® FPGA Building Blocks
ARIES Embedded is one of our Mi-V ecosystem partners. Using their SoMs can make your life easier when starting a new project. Having ready-to-use use building blocks that you can integrate into prototypes, use for technology evaluation or simply use to start the development of IP or software can accelerate the completion of tasks and reduce your overall risk.
M100PFS: PolarFire® SoC FPGA SoM for Industrial Applications
Designed for industrial application, the M100PFS is built around the RISC-V SoC-FPGA architecture. This SoM is already available in two versions, one that offers High-Speed I/O (HSIO) signals on the board-to-board connector and one that does not offer these signals but contains DDR4 RAM dedicated to the FPGA fabric.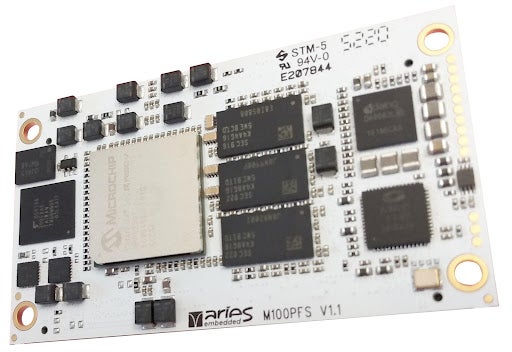 The M100PFS contains:
A PolarFire SoC FPGA (MPFS025T to MPFS250T)

1 to 8 GBytes of DDR4 RAM dedicated to the HMS

512 MByte to 4 GByte DDR4 RAM dedicated to the FPGA

128 Mbit to 1GBit NOR Flash

8–64 GByte eMMC memory

Two PCIe® adapters (each can be configured as either root or function) 

Two 1 Gbps Ethernet MACs

Flexible and programmable clock PLL

Single 3.3V supply

Size dimensions of 74 mm × 42 mm

2× Samtec QSH-090-01-F-D-A board-to-board interconnects
This SoM comes with a Yocto-based Linux® BSP, U-Boot, Hart Software services and board documentation. You can begin developing by using an evaluation carrier for the SoM, which offers most interfaces and I/Os and is available with the Altium design data; the design of a specific carrier board is just one step away.
M100PF PolarFire FPGA SoM at a Glance
The M100PF SoM family spans from 100K Logic Elements (LEs) to 300K LEs and features DDR3 SDRAM, an SPI configuration device, eMMC NAND Flash and a clock distribution. The devices are ideal for a wide range of applications within wireline access networks and cellular infrastructure, defense and commercial aviation markets, industrial automation and IoT markets.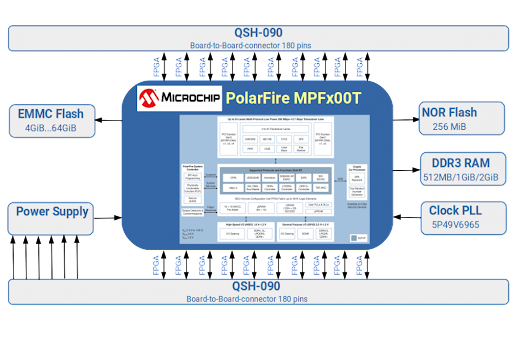 The M100PF contains:
A PolarFire® FPGA (MPF100T to MPF300T)

512 MiB/1 GiB/2 GiB DDR3 RAM 

128 MiB configuration device 

4 GiB eMMC memory 

8 SerDes lanes (250 Mbps to 12.5 Gbps) 

2 PCIe Gen 2 end points/root ports 

Rich user I/O 

Flexible and programmable clock PLL 

Single 3.3V supply 

Size dimensions of 74 mm × 42 mm 

2× Samtec QSH-090-01-F-D-A board-to-board interconnects 
PolarFire FPGAs are the base of many custom designs. Thanks to their history in hardware, software and IP design, PolarFire FPGAs make your transition from standard design to custom product easy.