S2C announced that the Beijing Institute of Open Source Chip (BOSC) adopted its Prodigy S7-19P Logic System, a VU19P-based FPGA prototyping solution, in the development of the "XiangShan" RISC-V processor. S7-19P not only accelerates the iterations of processor development but also simplifies other companies to realize XiangShan-based SoCs. 
RISC-V, an open instruction set architecture, has increasingly become the focus of global processor development. Among them, "XiangShan" is a high-performance open-source RISC-V processor core and is considered an international leading representative of the RISC-V industry. Since the launch of its first generation, "XiangShan" has received over 2,500 stars and 277 forks on GitHub, making it one of the most followed open-source hardware projects internationally. To date, "XiangShan" has launched two generations, with the third generation under development. Industry-leading companies are adopting "XiangShan" and conducting further development for various applications and expanding the RISC-V ecosystem.
In the adoption of the "XiangShan" project, the key role of the Prodigy S7-19P Logic System is allowing software development and profiling in high-performance FPGA prototyping. This allows the software and hardware engineers of "XiangShan" to work in parallel, significantly shortening the development process. A BOSC representative added, "Due to the diversity of RISC-V, our clients need to survey different RISC-V cores to find the right one matching their applications. S2C's FPGA prototyping enables us to showcase processor performance through the SPEC benchmark. It is also a must-have tool for I/O verification and BSP driver development. S2C's solution covers the entire cycle from hardware design to software integration and client test drivers, making it easier for our clients to choose the most suitable solution and proliferation of the 'XiangShan' core."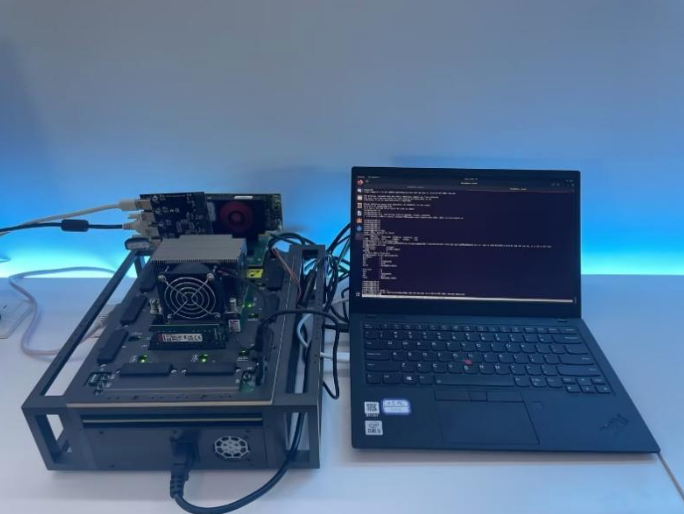 SPEC Benchmark:
SPEC benchmarking can verify whether the expected performance is achieved. By leveraging S2C's Prodigy, the "XiangShan" team can conduct the performance evaluation by running Linux with a graphical interface. This provides the team with valuable feedback for more effective optimization. 
I/O Verification:
S2C's Prodigy provides an actual environment for testing and verifying all input/output communication channels in XiangShan. FPGA prototyping is used to ensure seamless integration and communication with other hardware components like memory, storage, and other interfaces. The "XiangShan" team has adopted various S2C's daughter cards and interfaces, including flash, GMAC, and PCIe, and the overall system operates at 50MHz.
BSP Driver Development:
BSP (Board Support Package) driver development ensures smooth interaction between software and hardware. With FPGA prototyping, developers can develop and test the BSP on actual hardware, ensuring hardware-software co-development. This parallel approach thereby improves development efficiency and accuracy. Once the "XiangShan" hardware design is ported to S7-19P, the BOSC software team immediately embarks on BSP driver development. This method allows the software team to gain a deeper understanding of hardware features and limitations, ensuring optimized hardware design for "XiangShan" before the final tape-out and accelerating software development.
"'XiangShan' is a leading high-performance RISC-V processor core," another BOSC representative stated, "S2C's FPGA prototyping laid a solid foundation for the XiangShan project. We chose S2C because of their outstanding technology and services. They have injected great momentum into our project."
Mr. Ying Chen, VP of Sales & Marketing at S2C, also commented, "We are glad that our Prodigy FPGA prototyping solutions accelerate the XiangShan project and meet a wide range of target market needs. In the future, we will work with more partners to expand the RISC-V community for the prosperity of the RISC-V ecosystem."
About Beijing Institute of Open Source Chip
RISC-V has developed rapidly in recent years and become the focus of international scientific and technological competition. To improve China's IC design level and build a technology platform connected with the international open source community, Beijing City and the Chinese Academy of Sciences have prioritized development in RISC-V, and organized a number of leading domestic enterprises and top scientific research institutes to establish the BOSC on December 6, 2021. The institute gathers the consensus of industrial development with open source and acceptance, stimulates application traction potential through collaborative innovation, and strives to promote integrating the RISC-V innovation chain and industrial chain, as well as accelerate industrialization in scientific and technological innovation achievements, and the creation of the world's leading industrial ecosystem of RISC-V.
About S2C
S2C is a leading global supplier of FPGA prototyping solutions for today's innovative SoC and ASIC designs, now with the second largest share of the global prototyping market. S2C has been successfully delivering rapid SoC prototyping solutions since 2003. With over 600 customers, including 6 of the world's top 10 semiconductor companies, our world-class engineering team and customer-centric sales team are experts at addressing our customer's SoC and ASIC verification needs. S2C has offices and sales representatives in the US, Europe, mainland China, Hong Kong, Korea, and Japan. For more information, please visit: www.s2cinc.com and more details about vu440, vu13p, vu19p board, vu9p FPGA, etc.